Stephen Ministry
Bear one anthers burdens, and in this way you will fulfill the law of Christ
(Galatians 6:2, NRSV).

Need a Stephen Minister? Contact Wayne Reynolds, 703-777-4796
. All calls are held in strict
confidentiality.


The Story behind Stephen Ministry
In this interview, Dr. Kenneth Haugk, the founder and Executive Director of Stephen Ministries St. Louis, sits down with Peter Rosenberger, host of the nationally syndicated radio show Hope for the Caregiver. Dr. Haugk shares about the beginning of Stephen Ministry, his personal experience receiving care, and how congregations can get involved with this lay caring ministry.
The interview can be streamed using the player below or downloaded from SoundCloud for offline listening.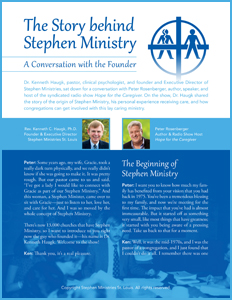 Stephen Ministries would like to thank Peter Rosenberger for inviting Dr. Haugk to appear on Hope for the Caregiver. Peter has been a caregiver for more than 30 years, walking alongside his wife, Gracie, through numerous medical challenges. The author of Hope for the Caregiver: Encouraging Words to Strengthen Your Spirit, he has spoken to conferences and organizations across the country on the topic of caregiving. For more about Peter's mission and work, visit his website, Caregivers with Hope.
Since Dr. Kenneth Haugk began Stephen Ministry in 1975, it has reached over 13,000 congregations from more than 180 denominations in the United States and around the world. More than 600,000 laypeople have trained as Stephen Ministers, and they in turn have provided care to millions of hurting people.
To learn more about Stephen Ministry contact Wayne Reynolds 703 777 4796 or Rev. Heather Wray 540 424 9936.
Stephen Ministry is the one-to-one lay caring ministry that takes place in congregations that use the Stephen Series system.
Stephen Ministry congregations equip and empower lay caregivers—called Stephen Ministers—to provide high-quality, confidential, Christ-centered care to people who are hurting.
Care receivers are people—congregation members and others in the community—who receive care from a Stephen Minister. These are people struggling through a difficult time in life—experiencing grief, divorce, job loss, chronic or terminal illness, or some other life crisis.
Some important guidelines for this caring relationship protect both the care receiver and the Stephen Minister:
The relationship between a care receiver and a Stephen Minister is confidential.

Men are matched with men; women with women.

When a care receiver's needs exceed what a Stephen Minister can provide, the Stephen Ministry team makes a referral to an appropriate mental health professional or other community resource.
Opportunity don't miss it!
Here's an opportunity to receive Christian training that will benefit you in everyday life.
After the completion of the training and establishing relationships with new friends in a Christian atmosphere you will be able to have a choice between coming a Stephen Minister or just using the training in your everyday life. The training is experiential and filled with Christian teaching and in a pleasant way. This training is only offered, when needed, once a year if needed. For more information please contact Rev. Heather Wray, Wayne Reynolds or Lou Legard.
click here

To view videos for a sample of how Stephen Ministry helps care receivers,
"

When you come to help me."
Watch Nancy tell her story

Watch a video about Stephen Ministry.

http://www.pbs.org/wnet/religionandethics/?p=6044

https://www.stephenministries.org/CareMail/2018/Care_Receiver_Story/Care_Receiver_Story.cfm
Suggestions to Stephen Ministers from a Care Receiver
When you as a Stephen Minister come to help me, there are some things I do not want from you:
Do not tell me you know how I feel.

Do not tell me what I need to do.

Do not tell me I'm wrong.

Do not rush me, because you don't know where I'm going.

Do not take my burden from me.
There are some things that I do want from you:
I want you to call me and let me know I exist.

Tell me you are there and that you care.

Ask me how I feel and then let me tell you how I feel.

Let me express my anger and loneliness, and let me cry if I need to.

Ask me if I want to be touched with a hug or a prayer, and then let me decide.

When I say no, accept it.

When I say yes, do it.

Hear me, not only with your ears, but also with your eyes, touch, and your heart.
Want to become a Stephen Minister? Contact Wayne Reynolds 703 777 4796
Lou Legard 540 668 6369 or Rev. Heather Wray 540 424 9936